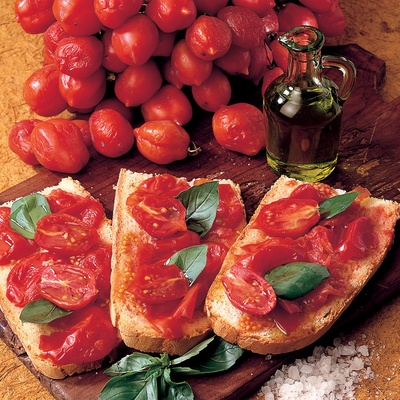 • 4 friselle (hard-baked rusks)
• 400g cherry tomatoes, chopped
• 30g extra virgin olive oil
• 6 basil leaves, torn
• Salt
• 20g marinated anchovies, chopped
• 1 garlic clove, crushed
• Dried oregano
• 1 fresh chilli
• Black pepper
1. Firstly, moisten the friselle with cold water and place them on a plate.
2. Pour the cherry tomatoes into a large bowl and dress them with oil, salt, oregano and black pepper. Stir. Add the anchovies, half the garlic and the basil leaves. Stir well to combine all the ingredients.
3. Lightly season the friselle with salt and rub them with the remaining garlic. Spoon the tomatoes and anchovies onto the friselle. Remove the seeds from the chilli and cut it into strips. Place the strips along the friselle.