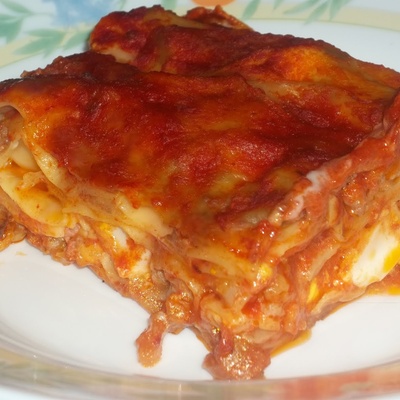 • 12 lasagna sheets
• Ham slices
• Grated mozzarella
• 6 boiled eggs
• Parmigiano Reggiano
For the ragù:
• ½ red onion, finely chopped
• 2 garlic cloves, finely chopped
• 1 kg mince meat
• 2 jars tomato passata
• Oil
• Salt
• Pinch of oregano
• 2 sprigs of basil
1. Prepare the ragù the day before: heat oil in a saucepan and sauté the garlic and onion.
2. When the onion is transparent, add the meat. Season with salt and oregano. Cook until the meat is browned.
3. Add the passata and basil. Reduce heat and simmer for 1 hour.
4. Preheat oven to 180°C.
5. To assemble the lasagna, pour a cup of the ragù into a baking dish and spread across the base. Line the sauce with lasagna sheets, followed by the ragù, Parmigiano Reggiano, eggs, ham and mozzarella. Repeat this process to make six layers.
6. Top with ragù, Parmigiano Reggiano and mozzarella.
7. Bake for 1 hour or until golden brown and bubbly.