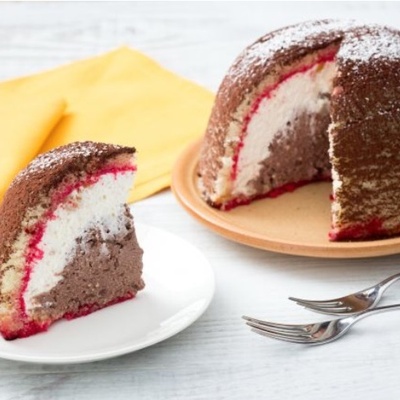 For the pan di Spagna:
• 5 medium eggs
• 65g flour
• 150g sugar
• 75g potato starch
• Seeds of 1 vanilla pod
• Pinch of salt
For the filling:
• 450g ricotta
• 10g unsweetened cocoa powder
• 120g cream
• 50g sugar
• Candied orange, diced
• 40g dark chocolate chips
For decoration:
• 200g alchermes
• Unsweetened cocoa powder
• Icing sugar
1. Preheat oven to 160°C. Grease a 24-cm cake tin with butter and dust with flour.
2. To prepare the pan di Spagna, whisk the eggs, vanilla seeds and salt with an electric beater until you have a foamy mixture.
3. Gradually add the sugar and continue to whisk until you have a light and fluffy mixture.
4. Sift the flour and potato starch into the mixture, then gently stir with a spatula, moving in circular motions from the bottom to the top.
5. Pour the batter into the cake tin and bake on the lowest rack for around 50 minutes. Turn onto a wire rack to cool.
6. For the filling, sift the ricotta into a large bowl, then add the sugar and whisk.
7. In a separate bowl, whisk the cream and then add it to the ricotta, stirring gently.
8. Transfer 1/3 of the mixture into a separate bowl.
9. Add the candied orange to the bowl with 2/3 of the mixture and stir to combine.
10. Fill a piping bag with the mixture.
11. Sift the cocoa powder into the bowl with 1/3 of the mixture and add the chocolate chips. Stir to combine.
12. Fill a second piping bag with the mixture.
13. When the pan di Spagna is cool, remove the top crust, then turn it upside down and cut it into pieces around 1 cm in thickness.
14. Take a zuccotto mould (or a glass bowl) 17 cm round and 11 cm high.
15. Place the cake pieces along the bowl to cover the entire surface.
16. Brush the pieces with alchermes.
17. Pour the ricotta and candied orange mixture in, spreading it over the cake pieces and leaving a well in the middle.
18. Add the ricotta and chocolate mixture to the well and smooth out the surface with a spoon.
19. Now to seal the zuccotto: line the surface with the remaining pieces of cake and trim the edges.
20. Brush the cake pieces with alchermes.
21. Cover the zuccotto with cling wrap and refrigerate for at least 3 hours.
22. Once set, turn the zuccotto out onto a plate. Dust with cocoa powder and dusting sugar before serving.