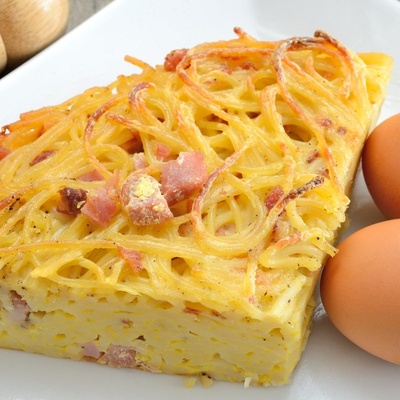 • 350g spaghetti or macaroni
• 5 eggs
• 50g parmesan, grated
• 20g butter
• 50g pancetta, diced
• 100g Scamorza, diced
• Extra virgin olive oil
• Salt
• Pepper
1. Cook the pasta in a saucepan of salted boiling water.
2. Meanwhile, beat the eggs with salt, pepper and parmesan.
3. Once the pasta is cooked, dress it with the butter and set aside to cool.
4. Pour the eggs over the pasta and stir well.
5. Add the pancetta and scamorza and stir to combine.
6. Heat oil in a large non-stick pan and cook the pasta over low heat.
7. As soon as the mixture is compact and golden brown on top, turn it over with the help of a lid or a plate.
8. Cook for another 5 minutes or until golden brown.
9. Remove from heat and place on paper towel. Set aside to cool.
10. Cut into pieces and serve warm or at room temperature.