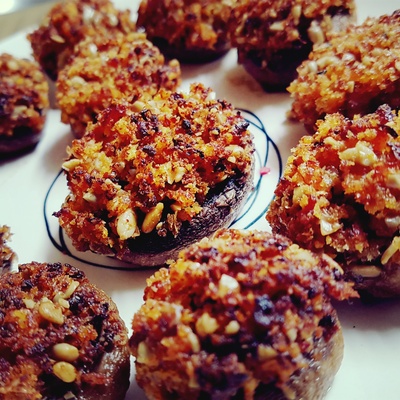 • 250g mushrooms (button or brown)
• 1 small brown onion, chopped
• 1 garlic clove, chopped
• 2 slices white bread
• 2 rashers bacon, finely chopped
• 2 tbsp pecorino or parmesan, grated
• 1 - 2 tsp paprika
• 2 tbsp sunflower seeds
• 1 tbsp olive oil, for frying (extra for baking tray)
• 1 sprig of fresh thyme
• Salt and pepper, to taste
1 .Remove the stems from the mushrooms and keep the caps aside for later. Chop the stems finely.
2. Transfer onion and garlic to a frying pan. Allow the onion to soften slightly then add the bacon pieces and the chopped mushroom stems.
3. Add paprika and a pinch of salt or pepper if required. Allow to fry for 5 or 10 minutes or until the flavours infuse. Remove from heat and allow to cool.
4. Wipe the frypan clean then gently toast the sunflower seeds. Once lightly toasted remove from heat and allow to cool.
5. Remove the crusts from the slices of bread then gently tear the bread into pieces and place in a food processor along with all the other ingredients including cheese. Pulse gently for a few minutes until forms a nice crumb mixture.
6. Fill each mushroom cap with a nice tablespoon of the filling, then place in a baking tray.
7. Drizzle lightly with olive and bake in a 170c for around 15-20 minutes or until the filling appears golden. Remove and serve as a side to a nice roast.