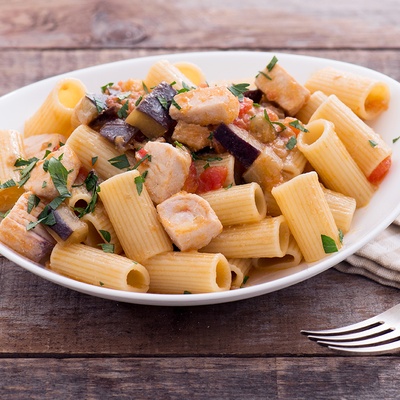 • 250g eggplant
• Salt
• 160g pasta, Mezze maniche or penne
• 150g cherry tomatoes
• 100g swordfish steak
• Peanut oil, for frying
• 2 tbsp extra virgin olive oil
• 2 garlic cloves
• 50 ml dry white wine
• Black pepper, freshly ground
• 6 mint leaves, plus extra for garnish
1. Dice the eggplant into 1.5cm cubes. Place in a strainer and sprinkle with a little salt; mix and let sit to allow the juices to run for at least 20 minutes.
2. Cut tomatoes into wedges. Rinse the swordfish and pat dry. Remove any membranes before dicing into 1.5cm cubes.
3. Fry the eggplant cubes a handful at a time in hot peanut oil and stir occasionally to prevent sticking to the pan. When lightly browned remove using a skimmer. Place on kitchen paper towels to absorb excess oil.
4. In a large pan, sauté the garlic in olive oil. Discard the garlic before adding the swordfish pieces. When lightly browned, pour in the wine, a pinch of salt and freshly ground black pepper.
5. Cook for 3-4 minutes, the time it takes for the alcohol to evaporate. Toss in the tomatoes and combine. Continue cooking for a few minutes longer.
6. Stir in the eggplant and mint leaves just before turning off the heat. Leave uncovered.
7. Meanwhile, cook the pasta in a pot of boiling salted water. Just prior to straining the pasta, take a ladle of pasta water and add it to the swordfish and eggplant sauce. Return the pan to a high heat and toss the pasta in with the sauce. Decorate with a mint leaf or two and serve.