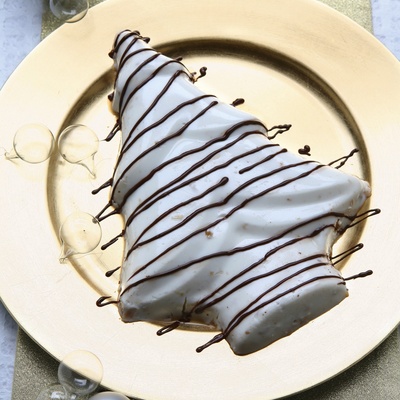 • 300g classic Italian hazelnut or almond nougat
• 110g icing sugar
• 2 egg whites
• 300 ml cream, whipped
• 1 tbsp rum or Grand Marnier liqueur
• 200g dark chocolate, chopped

1. Put egg whites and icing sugar in a bowl over a saucepan of simmering water. Beat briskly with a whisk until the whites are firm and shiny. Remove from saucepan and allow to cool slightly.
2. Chop the nougat and incorporate it into the lukewarm egg whites. Gently stir in the liqueur. Fold in the whipped cream trying not to deflate the mixture.
3. Line a 1.2 litre Christmas tree-shaped cake tin with cling film. Fill the tin with the cream mixture, levelling the surface. Place in the freezer for at least 6 hours to set.
4. When the cake has set, melt the chocolate in a bowl over simmering water, stirring with a wooden spoon. Use a kitchen syringe to decorate the cake with the chocolate.