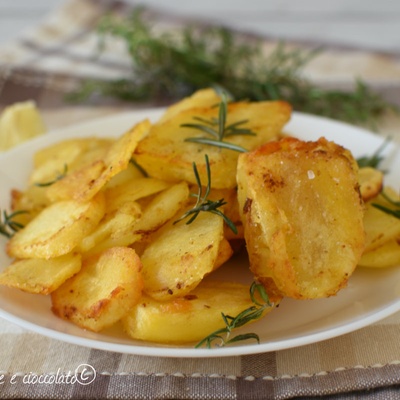 • 800g medium-sized potatoes
• 40g butter
• 1 sprig of thyme
• 1 garlic clove
• Extra virgin olive oil
• Sea salt flakes
• Black pepper

1. Peel the potatoes and rinse under cold running water. Cut each potato into 8 wedges and transfer to a large bowl of ice cold water to soak for about 30 minutes. Soaking prevents potatoes from oxidising and removes excess starch which helps to achieve maximum crispness. When the soaking time is up, drain the potato wedges and pat dry with a clean cloth.
2. In a non-stick frypan melt the butter and 2 tbsp olive oil, sauté the garlic for a couple of minutes before removing. Arrange the potato wedges in the pan, one next to the other, so that they are not overlapping. Lightly fry for 5 minutes, season with pepper and sprinkle over the thyme leaves.
3. Cover the pan and cook for 15 minutes over low heat stirring occasionally, very carefully, to avoid breaking. When nearly ready, remove the lid, turn up the heat and allow potatoes to brown for another 5 minutes.
4. Serve directly from the frypan, with a sprinkling of sea salt flakes.