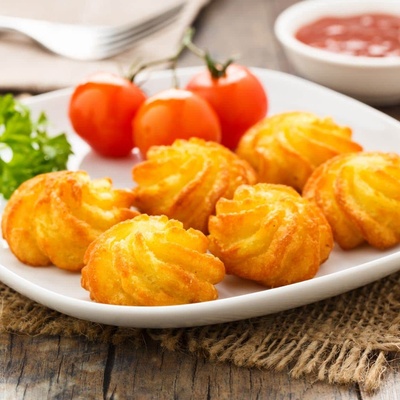 • 500g floury potatoes
• 40g butter
• 2 egg yolks
• 50g Parmigiano Reggiano, grated
• 2 tsp nutmeg

1. Preheat oven to 200°C. Line a tray with baking paper.
2. Place the potatoes in a large saucepan of cold water and bring to the boil. Cook the potatoes then drain and set aside to cool. Peel and mash the potatoes in a large bowl.
3. Add the butter, Parmigiano Reggiano, salt and nutmeg and stir to comine. Add the egg yolks and continue to stir until you have a smooth mixture. Place the mixture into a piping bag with a star nozzle and pipe the mixture in swirls, not too close together, onto the baking tray.
4. Bake for around 15 minutes or until golden brown.