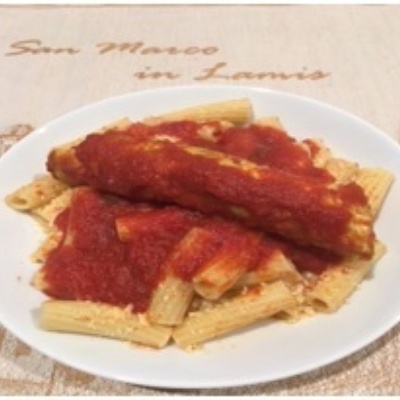 • 500g short pasta
• 500g tomato passata
• 4-6 eggs
• Pecorino, grated
• Breadcrumbs
• 2-3 garlic cloves, crushed
• Onion, chopped
• Basil, chopped
• Parsely, chopped
• Oil
• Salt
• Pepper
1. Prepare the involtini: combine the eggs, breadcrumbs, pecorino, half the garlic garlic, parsley, salt and pepper. In a fry pan, cook spoonfuls of the batch to make little fritters in the shape of involtini.
2. Prepare the sauce; in a large fry pan, sauté the onion and remaining garlic. Add the tomato passata and basil and season with salt and pepper.
3. Add the involtini to the sauce and cook over low heat for several minutes. Remove the involtini from the pan.
4. Meanwhile, cook the pasta in a saucepan of salted boiling water. Drain.
5. Dress the pasta with the sauce and top with the involtini and grated cheese.