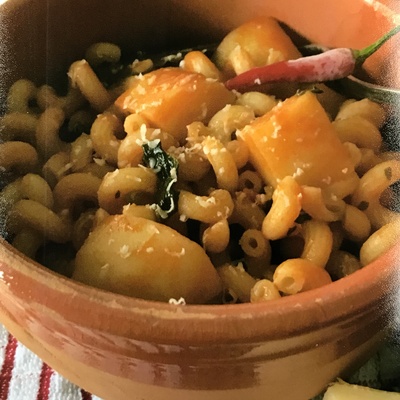 • 500g assorted pasta
• 750 ml tomato passata
• 250g guanciale, diced
• 1 onion, diced
• 1 garlic clove
• ¼ cup extra virgin olive oil
• 2 bay leaves
• 1 bunch of basil (or parsley)
• Salt
• Chilli flakes
• 3-4 medium potatoes, quartered
• Parmigiano Reggiano, grated
1. Heat the oil in a medium saucepan and sauté the onion. Add the garlic and guanciale and cook until browned, then at the salt, chilli flakes, bay leaves and basil.
2. Add the tomato passata and ½ a cup of water and bring to the boil.
3. Reduce the heat and simmer for around 10 minutes.
4. Add the potatoes and continue to cook for around 20 minutes.
5. Cook the pasta in a large saucepan of salted boiling water. Drain.
6. Toss the pasta through the sauce and serve hot with a nice amount of cheese.