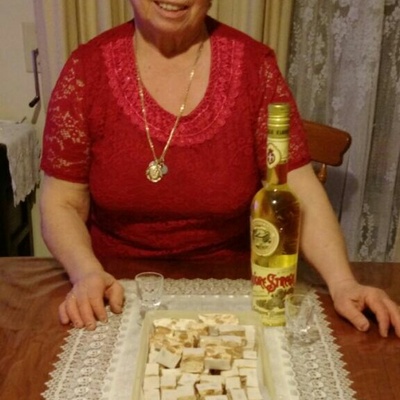 • 4 egg whites
• 500g pure honey
• 1 packet vanilla essence powder (Paneangeli Vanillina)
• 500g white sugar
• 1 kg roasted mixed nuts (e.g. peanuts and almonds)
• Rice paper sheets
• 20 ml Strega liqueur

1. Line the base of a lamington tin with rice paper sheets.
2. Place the egg whites, honey and sugar in a bowl and beat with an electric mixer on high speed for 20 minutes or until stiff peaks form.
3. Keep the mixer running and add the vanilla essence powder and Strega liqueur and combine.
4. Pour the mixture into an aluminium pot (not stainless steel) and stir continuously on low heat for 1.5 hours.
5. Test the mixture by placing a small drop on your finger and rolling it under cold water. If it forms a ball then it is ready. Continue cooking and stirring if not ready and retest.
6. Remove from heat and add the nuts then quickly stir to combine before the mixture begins to set.
7. Pour the mixture into the prepared pan and level the top flat before placing another layer of rice paper over it and smoothing out.
8. Set aside to cool. Before fully set, turn the torrone out onto a board and cut it into the desired lengths.
9. Once cut store in the refrigerator in a sealed container.