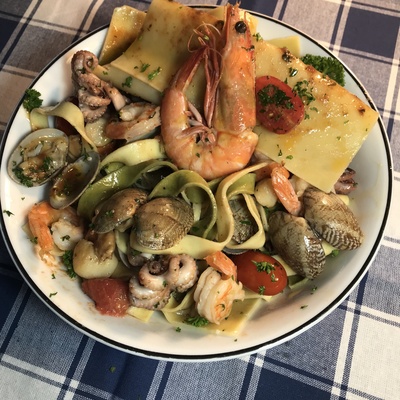 • 200g plain fettuccine
• 200g spinach fettuccine
• 8 lasagne sheets
• 300g prawns, peeled and deveined (plus four whole prawns for garnish)
• 300g mussels
• 200g baby octopus
• 200g scallops
• 500g cherry tomatoes
• 3 garlic cloves
• 1/2 cup dry white wine
• Extra virgin olive oil
• Chilli
• Chopped parsley
1. Cook the pasta in salted boiling water.
2. Meanwhile, heat oil in a non-stick frying pan and cook the garlic until browned. Set aside on a plate.
3. Place the baby octopus in the pan and cook for a couple of minutes.
4. Add the prawns, then the scallops, tomatoes, chilli and, lastly, the mussels and wine.
5. Toss in the pan until the wine evaporates, then add the parsley. Remove from heat and cover.
6. Once the pasta is cooked, take 4-5 tablespoons of the water and add it to the sauce in the pan.
7. Place back on the heat and add the drained pasta, stirring well.
8. To serve, place a lasagne sheet on each plate, followed by some fettuccine and seafood then drizzle with olive oil. Cover with another lasagne sheet and finish with the remaining sauce. Each plate should look like a pirate's treasure chest filled with jewellery.
9. Place a whole prawn on each treasure chest and serve.