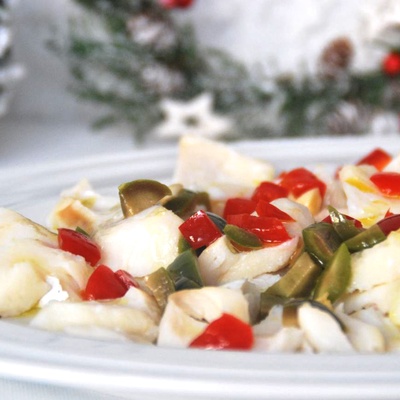 • 400g dried salted cod
• 100g green olives
• 2 celery stalks
• 4 pickled peppers
• 1 tbsp capers
• 1 lemon
• 1 garlic clove
• Salt and pepper
• Extra virgin olive oil
• Parsley
1. Soak the cod in cold water for a couple of days, regularly changing the water.
2. When ready, blanch the cod in a pot of unsalted boiling water for about 5 minutes. Leave to cool.
3. In the meantime, pit the olives (or keep them whole). Dice the celery in chunky pieces or mirepoix, depending on whether you want it to look rustic or "gourmet". Do the same with the peppers.
4. When the baccalà has reached room temperature, season it with oil, salt, pepper and the juice of half a lemon.
5. Cut the cod into cubes and combine in a bowl with the other ingredients. Mince garlic and parsley and add to the cod. Drizzle over more oil and mix. It's ready to serve!