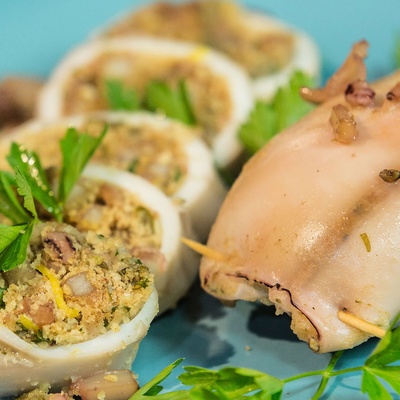 • 15 squid or cuttlefish
• ½ kg durum wheat bread
• 200g black olives
• 100g parmesan, grated
• Parsley
• Capers
• 1 garlic clove
• 1 egg
• 3-4 potatoes, peeled
• Breadcrumbs
• Salt and pepper
1. Clean the squid, mince the parsley and garlic and chop the olives and capers.
2. Make breadcrumbs from the fresh durum bread (not the crust) and put in a bowl with the parsley, olives, capers, parmesan, salt and pepper. Add the egg and combine. If the mixture is too firm, add a little milk or water.
3. Fill the squid tubes with the breadcrumb mixture and close the ends using toothpicks.
4. Line the base of a greased oven dish with thinly sliced potatoes. Lay the squid on top of the potatoes and sprinkle over the breadcrumbs.
5. Bake in a preheated oven at 220°C for about 30-35 minutes. Serve warm.