The inferno that continues to devastate Australia can no longer be described as a bushfire.
There are no words in our vocabulary for what is taking place.
It's tough to confront, let alone defeat.
Mallacoota resident Milena Cifali and her husband Jim Horvath know this better than anyone, having recently lost everything.
They didn't just lose their house when the beast came knocking on their door, but all the objects, memories and belongings that were within it.
They also lost pets, their daily life and their sense of normality.
"We feel empty," Milena said.
"It's a terrible shock that leaves you in the hands of the unknown."
Milena is a musician with a French mother and an Italian father who migrated to Australia in the 1960s.
Jim, who shares Milena's passion for music and art, had suffered a heart attack just weeks before the fire.
The couple had planned to relax and recharge their batteries over the holidays, but the fire was merciless.
"It all happened so quickly," Milena said.
"I almost can't believe it's real.
"We were in Brisbane – we'd travelled there to spend a few days with friends and family.
"On New Year's Eve morning, I checked the NSW Rural Fire Service app which reports fires and provides updates on their progress in real time.
"Up until midday, everything was fine ... no worries at all.
"Then, at around 12:00 pm, the first message read that Mallacoota residents must evacuate."
Panic ensued and the couple began following the news and searching the internet in an attempt to get any updates on the situation.
They sent messages to friends and fellow residents of Mallacoota who'd stayed there for the holidays.
Around an hour later, another message: "It's too late to leave."
Roads were closed, devoured by the fire as it headed towards houses.
It was surrounding the town.
As though smelling the fear of the residents, it closed in on their homes.
Then a final message, this time from their neighbours: "Your house is gone. Destroyed, just like ours."
Hopes, dreams, savings ... all burnt to the ground.
The past and the present, turned to ash.
"The initial shock is so deep you don't feel anything else," Milena said.
"Then, as the days pass, you start to feel relieved to still be alive and have your loved ones there beside you.
"Then comes the anger and you start to think how all of this could've been prevented.
"You think of how the government has never taken climate change seriously and how advice from scientists has been disregarded for so long.
"Then more shock ... and so the vicious cycle of extreme emotions continues."
Then came a moment to take it all in.
"Now, people need help and support ... someone to tell them where to go from here," Milena explained.
"Instead of pointing the finger, we must unite and act because now we, and many others, are climate refugees – homeless people who don't know what to do or where to go.
"Meanwhile, the country and its entire ecosystem continue to burn.
"Maybe when it's all over, nothing will be the same as before."
Mallacoota certainly won't be the same.
Neither will Milena's and Jim's lives.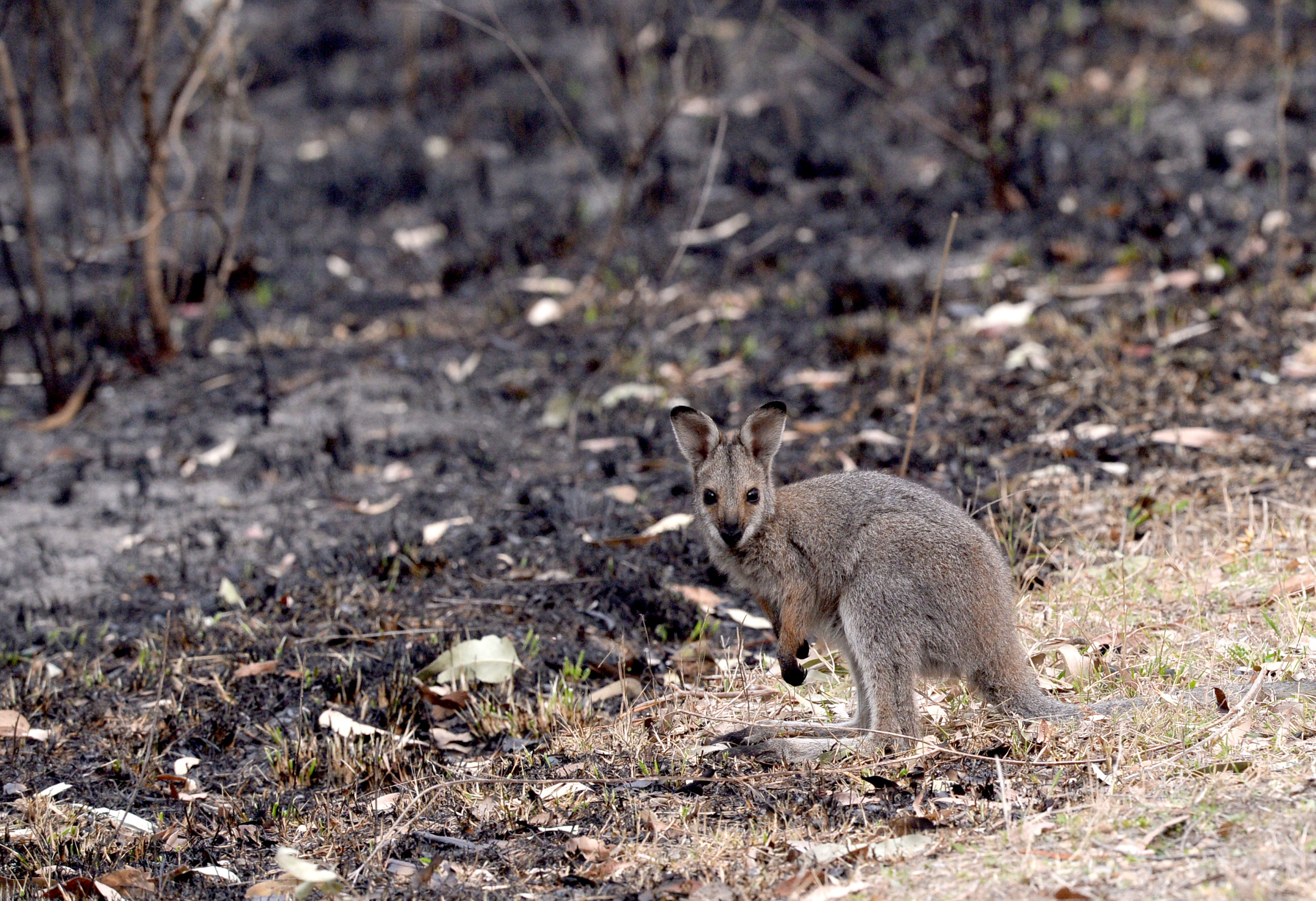 Milena urges people to leave water out for the animals which have survived the fires. (Photo: AAP/Jeremy Piper)
"It's hard to talk about what we're going through and what our friends have gone through," Milena said.
"I don't think that those outside Australia can fully understand the severity of the situation."
Milena and Jim have decided to remain in Brisbane until they can return to Mallacoota and see the damage for themselves and embrace their pets.
"We had 13 parrots; five died and nine were saved," Milena said.
"There was also a little koala that came to our veranda every day and acted like part of the family: he'd go to Jim and sit next to him like a pet cat or dog.
"After a bit he'd go back into the bush ... who knows if we'll see him again."
Ten other houses near Milena and Jim's were destroyed.
"The flames swept through the area like a tornado, taking everything with them," Milena said.
Almost everything...
The couple took a few instruments and amplifiers with them to Brisbane.
Now, The Awesome Duo – their band name – will seek to rebuild their lives, armed with their instruments.
They played a show at the Dusty Attic Music Lounge last Thursday, raising funds for victims of the bushfire.
"We'll also try to organise a concert with other bands in Canberra, because music unites and supports people," Milena said.
In this series of concerts, Milena will perform her songs and an unreleased piece that she wrote following the fire.
Even though she's not sure how to rebuild her life – perhaps overseas, in Europe – Milena wants to send a message of hope.
"I want to say that friendship, love and kindness are powerful weapons," she declared.
"Australia is a strong country with a united community, and together, we can do it.
"We can't give in to despair; we must be grateful for what we have, even if it's not much.
"I hope everyone in need gets help and that we all stop to reflect on this tragedy."
Milena concluded by making an appeal:
"Everything is so dry and this isn't helping the firefighters or the animals," she said.
"Our ecosystem is at risk.
"Please leave some water for the animals ... just put some in the garden, somewhere they can drink it from.
"They're also part of the community."