Over the years, the festival has evolved from a simple barbecue in the park into a day-long celebration held in various locations.
This year, the festival found a forever home in a specially-built hall beside the artificial grotto constructed 30 years ago to house the statue of the Madonna dell'Emigrante (Madonna of the Emigrant), as the as the former missionary Father Giuseppe Canova used to call it.
More than 200 people participated in the 64th edition of the event, which took place on Sunday, November, 3, at its new location.
The festivities began with a mass at 11:00 am, celebrated in Italian by Father Trenton van Reesch.
The hall seated 160 diners for lunch, while the rest were accommodated outside, under awnings to shelter them from the rain.
The day was reminiscent of an authentic Italian gathering: a spread of food and drinks; an auction and lottery to raise funds for the new hall; live music; face-painting for kids; a visit from Santa Claus and Mrs Claus, who gave out lollies; and the traditional spaghetti-eating contest for different age groups.
The musical entertainment came from the Dante Musica Viva choir, led by Saverio Palma.
Around 30 musicians and singers performed a repertoire of 10 songs in Neapolitan dialect, Venetian dialect and standard Italian.
Singer Joe Sorrentino also entertained the crowd with popular tracks.
The venue was bustling with people of all ages, from nonni to younger third-generation Italo-Australians, who kicked off the amusing spaghetti-eating contest.
Contestants had to devour a plate of spaghetti as fast as possible with their hands tied behind their back.
The winners of the contest walked away with trophies – and faces covered in red sauce!
Throughout the day, Maria Perre and Marco Rosin took turns playing the role of MC.
There were also two brief speeches.
Mayor of Queanbeyan-Palerang Regional Council, Tim Overall, spoke first, underlining the important role Domenico Barilaro played in the project (the construction of the grotto and hall was his vision) and the community's commitment to realising this vision.
Overall said he was proud to take part in the longstanding community event and recounted how his wife Nicole came second in her age division of the spaghetti-eating contest six years ago.
He also took the opportunity to offer his best wishes for the festive season.
President of the Italian Community Festival, Ivano Rosin, then took the microphone, welcoming everyone and thanking them for being there.
He also thanked the committee members for their work in organising the event, and Maria Perre for advertising it.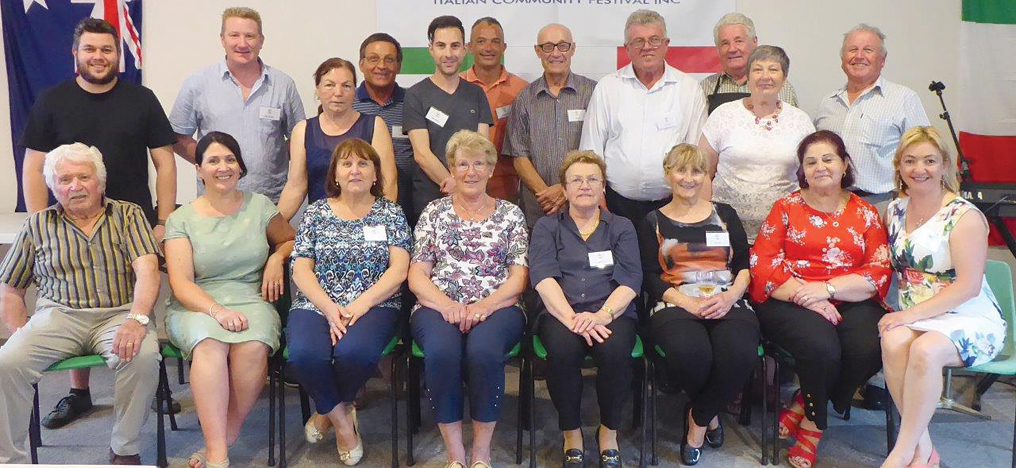 The festival's committee members
Rosin gave a special thanks to Barilaro for conceiving the project, and the event's sponsors.
He added that the official inauguration of the hall will take place next year, when works are completed with the help of the committee and volunteers.
The festival's committee is made of Italians from various regions, including Veneto, Calabria, Campania and Abruzzo.