Olive oil, pasta and passata are just some of the products on the long list that Italians have imported or produced here in Australia to revolutionise the country's cuisine.
Cheese is another one of these products, and an integral part of Australian gastronomy: In 2017–18, it accounted for around 7 per cent ($4.4 billion) of the gross value of agricultural production (ABS 2019) and around 7 per cent ($3.5 billion) of agricultural export income.
This figure is astounding, considering that just over 200 years ago, when the First Fleet arrived in NSW, only two bulls and seven cows survived the voyage and were introduced to the land.
When it comes to cheese, there's one name that springs to mind straight away: That's Amore Cheese, founded by Sicilian native Giorgio Linguanti.
"I'd never made cheese before I moved to Australia," Linguanti says.
Ten years ago, when he was still living in Sicily, Linguanti worked in advertising.
In 2001, three years before he arrived Down Under, his interest in food products manifested in the creation of the brand La Bella Eoilana.
Linguanti's first food project was fairly successful with the opening of a small store on the island of Salina, which sold traditional Aeolian and Sicilian products.
Despite the obstacle of Italian bureaucracy, the brand soon expanded to the other Aeolian Islands.
In 2004, Linguanti came to a crossroads in his life where he felt he had to start all over again.
He had an uncle who lived in Melbourne, so that was where he went.
"I left on August 19, right in the midst of the Italian summer," he recounts.
"I felt at home in Melbourne as soon as I got here.
"I arrived on a Wednesday and I began working the following Monday at a greengrocer's."
Linguanti gained some experience and got another job at an Italian cheese factory a year later.
A beginner in the magical art of cheese making, Linguanti was captivated by the world of dairy products and was determined to learn the craft.
Unfortunately, his boss wasn't willing to share his secrets or recipes.
"I called my brother in Italy and a few weeks later, I received a book on cheese making in the mail," Linguanti says.
"I couldn't speak English yet, but that didn't stop me!"
Linguanti began studying and experimenting in his kitchen, leading to the creation of sfoglia di mozzarella, a product which, once unknown in Australia, became his best seller.
"I made it and took it to restaurants in my van," he says.
"At first I called it 'Mozzarella Sheet', but my English still wasn't great and my pronunciation was terrible!
"To avoid any awkwardness, I decided to call it 'Bocconcini Leaf'."
The product received awards and praise immediately and Linguanti decided to get his licence and find a space in another dairy factory which allowed him to use the machinery required.
And so, That's Amore Cheese was born.
"I chose the name 'That's Amore Cheese' because the song That's Amore connects Italian and English culture perfectly," he explains.
"Italians believe it's an English song because they don't understand the words and English-speakers believe it comes from Italian culture.
"The name reflects the cultural mix I was looking for, combined with the passion and love I have for my craft."
Since its humble beginnings, That's Amore Cheese has gone on to receive myriad awards, especially for its burrata, diavoletti (stuffed scamorza), trecce and, more recently, its gelato and cannoli, during the 2019 DIAA Australian Dairy Product Competition.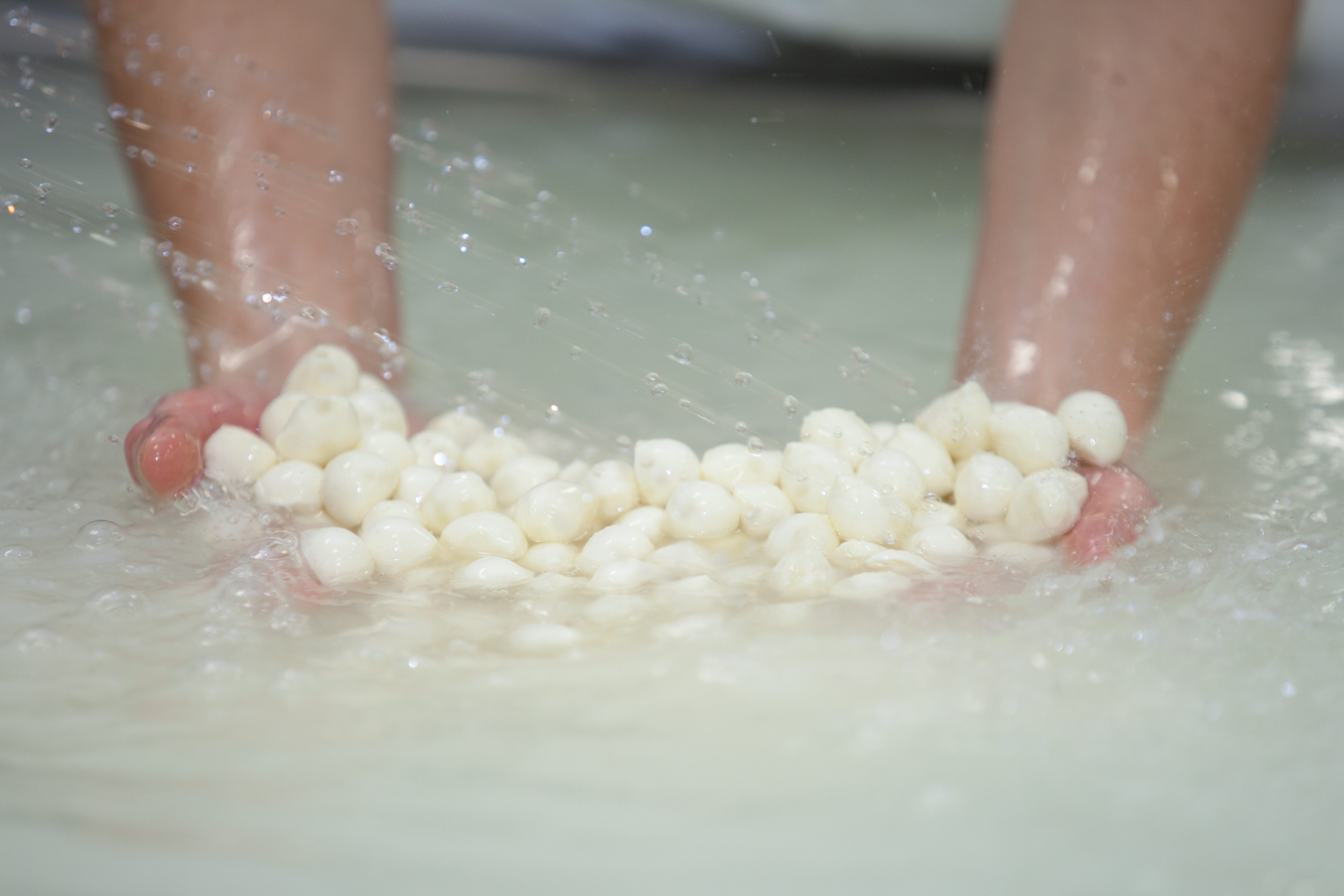 The making of mozzarella at That's Amore Cheese​. (Photo: HiSylvia)
Born out of the back of a van 11 years ago, the company now has around 100 employees and an annual turnover of around $15 million.
It has evolved from a hobby to a popular brand loved and sought after by many; from a room to an entire factory in Thomastown complete with offices, production areas, a deli and a cafe.
In 2010, Linguanti co-founded the cheese store La Latteria in Carlton, an experience which came to an end a little while ago.
Today, you can find That's Amore Cheese at the Essendon Fields store, Preston Market, South Melbourne Market and Highpoint Shopping Centre, where it has a pop-up store selling cannoli and gelato.
"We started from scratch and we've become pioneers of products like burrata, smoked scamorza and ricotta delicata," Linguanti says.
"We've allowed people to rediscover the pleasure of eating ricotta and tried to educated consumers that it's the healthiest dairy product due to its whey protein and low fat content."
The same thing happened with cannoli, which were previously prepared with custard instead of ricotta and filled in the morning, not upon request, as is tradition.
"We brought this Sicilian tradition to Melbourne and now cannoli are trendy," Linguanti says.
Today, That's Amore Cheese has a fantastic team of employees which have helped the company expand: its products are now distributed across the nation and abroad, in the Middle East and South East Asia.
The company's most recent venture was in partnership with a local company in Singapore.
When asked why he chose to produce cheese in Australia instead of importing, Linguanti responds: "I didn't have the funds for it; the easiest option for me was to buy the milk and do it myself."
The curd arrives at the factory and the rest is done there.
The curd is produced with Australian milk, which is among the best in the world according to Linguanti.
"Many don't know that when we talk about buffalo milk, producers have their farms and everyone has their own milk," he says.
"When we talk about cow's milk, there's not enough of it in Italy, so many producers import the curd from Germany, Lithuania or the Czech Republic."
To be clear, every dairy product is based on a fundamental ingredient: curd, which is made by heating milk to 36˚C then adding rennet and lactic acid.
Next, the curd is cut into cubes; after around 30 minutes, it begins to excrete a liquid called whey, which is rich in proteins.
The whey is used to make ricotta: the proteins are collected and re-cooked, or ricotte in Italian, at 90˚C, hence the name "ricotta".
The proteins then rise to the surface and are placed in baskets.
To make cheese, the curd is placed in various baskets which give the products their shape, or forma in Italian, hence the word formaggio (cheese).
Mozzarella is made from the curd and boiling water and is worked into different shapes (trecce, bocconcini etc.); it's placed in cold water at the end, where it solidifies and maintains its shape.
It really is an art which Linguanti has mastered with lots of love and passion.