That's not to say Pantalica hasn't acquired prestigious awards or millions in revenues – in fact, quite the contrary.
Pantalica has certainly made its mark in Australia since it was founded in 1973 by the late Sebatiano "Sam" Pitruzzello, who was central to its success which endures now that the second generation of his family has taken the helm.
Sam was an esteemed and respected figure, not only within "his" Sicilian community, but also within the wider Italian community of Australia.
This was reflected by the enormous display of affection by more than 1300 people who attended his funeral at St Paul's Catholic Church in Coburg, in December 2016.
Though he was as humble as they come, Sam received numerous awards throughout his life, including Italy's highest honour, Knight of Labour of the Italian Republic (Cavaliere del Lavoro della Repubblica Italiana), which he was appointed on November 17, 2010, by Italian President Giorgio Napolitano.
The following year, he was made an inductee in the Victorian Manufacturing Hall of Fame.
Sam also received many posthumous awards, including the prestigious Medal of the Order of Australia (OAM), which the Pitruzzello family accepted during the 2017 Australia Day celebrations, just weeks after Sam passed away, aged 76.
This honour acknowledged Sam's unflagging commitment to his business and the community throughout his life, most of which was spent in Australia.
Hailing from the mountains of Sortino, in Sicily, Sam migrated to Australia in 1963, arriving with no more than a suitcase and a heart full of dreams.
His first mission was to reunite with his beloved Lucia, who had arrived in Melbourne 18 months earlier.
The couple got married just 49 days after Sam disembarked the Oceania and set foot on Australian soil.
"My father was a person who had a vision; he wanted to come to Australia for a new start and new future and he definitely achieved that," Silvio Pitruzzello, general manager of business and marketing at Pantalica, says.
"My dad had lots of guts and lots of courage, and that's why he was successful.
"He believed that in life, if you give 100 per cent, 99 per cent of the time you will succeed." 
During his first few years in Australia, Sam worked as a labourer, mainly as a welder and boilermaker at General Motors.
But his passion was making cheese and working with the animals that help produce it.
"He had to persist a lot and it took almost 10 years to get his cheese licence from the Victorian government," Silvio says.
"At the time it was very hard to get the cheese licence.
"My father used this time to perfect his products in the back of his garage and in 1973, when he got the OK and felt ready, he started his business."
The company was named Pantalica in honour of the mountainous region surrounding Sortino, in the province of Syracuse, where Sam came from and where he learned the craft of cheesemaking.
Sortino's municipal coat of arms was used as the company's logo.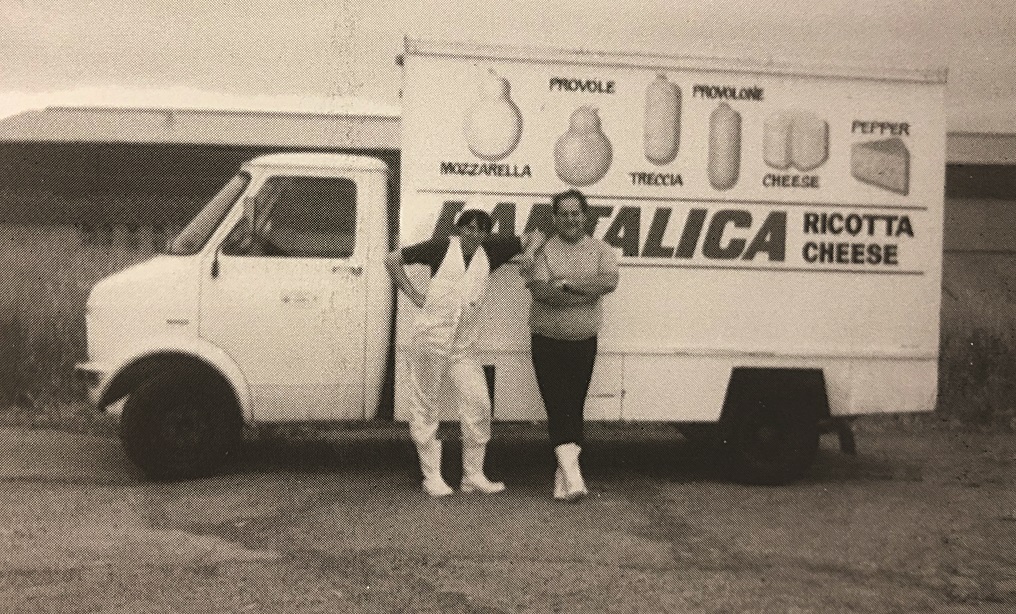 A young Biagio Pitruzzello with Claudio D'Angelo in front of one of Pantalica's first vans, in 1983
Sam opened a factory in Thomastown, where all of his products were made.
"My father chose Thomastown because at the time there were many Italians, Greeks and Macedonians in the area," Silvio explains.
"It was a central point for doing business.
"In the early 1970s, most people didn't know what mozzarella or bocconcini were.
"Aside from Italians, the only other people who knew these kinds of products were 'new arrivals' from Europe.
"For example, the Greeks and Cypriots had their dairy products, like yoghurt, feta and haloumi.
"We eventually began making these products as well to cater to other members of the European community."
This allowed Pantalica Cheese to position itself on the Australian market within just a few years.
"It was difficult at the beginning for my parents, mainly because they didn't speak much English," Silvio says.
"But they worked hard over the years to learn."
Silvio works with other members of the second generation of Pitruzzellos to take care of the family business which was handed down to them.
Biagio – Sam and Lucia's first child – is the general manager of production, while Silvio's twin sister, Antonella, takes care of administration and accounts.
Antonella's husband, Steven Italiano, supervises the machinery and equipment in the factory.
The company has won hundreds of awards over the years at prestigious events like the Royal Melbourne Show and similar competitions all over the country, from Queensland to South Australia.
"I think it's good to receive feedback on the quality of our products," Silvio says.
The long list of Pantalica's products includes ricotta, haloumi, mozzarella varieties, and aged cheeses such as pecorino and parmesan, all "Australian but Italian-style".
"All products are made with cow's milk, because it's the only type available all year round," Silvio says.
Consistent production is crucial, as Pantalica's products are in high demand and have been since the 1980s.
"In those years, in order to grow, you needed to increase sales, and the supermarkets was one way to do that," Silvio says.
"In the 1980s, my dad went to see all the major supermarkets and he was fortunate to be accepted and they started to stock his products."
But it wasn't always like this...
"It all began on Sydney Road in Coburg," Silvio recalls.
"At the time there were around 50 independent shops and delicatessens and my father went to each one to sell our products, door to door."
Today, Pantalica Cheese produces around 50 tonnes of cheese a week, has 150 employees and makes an annual turnover of $30 million.
The company also exports to Asia, from Singapore to Malaysia, from Bali to Bangkok.
Silvio underlines that "the future of any business here in Australia, especially in manufacturing, is exporting".
"We've been exporting for around 20 years and this has allowed us to expand," he adds.
A typical day at Pantalica starts at 5:00 am and doesn't end until 7:00 pm, and Silvio and Biagio split the shifts.
"It's a fairly committed job; in our business you're either in it to do the best you can, or you sell out and move on," Silvio says.
The future of Pantalica may also include the third generation of Pitruzzellos, should they decide to take on this labour of love.
"We hope that at least one of our family members will continue on with the business but fortunately, or unfortunately, there is no guarantee in life," Silvio says.
"We are always going to be here so if they want to come back here and work, there will always be the opportunity."
Outside of Pantalica, Silvio has been vice president of the Italian Chamber of Commerce in Melbourne for a number of years now, and is also an executive board member.
He has also been appointed Knight of the Order of the Star of Italy for his services to the community.
"I'm always trying to help the Italian community in any way that I can, and that's my passion," Silvio concluded. 
"In my father's words: 'In life if you help people, people will help you. It's about working together'."