The woman behind the name is a force to be reckoned with, both in and out of the kitchen.
A highly acclaimed chef, restaurateur, media personality and writer, Karen is most famous for her roles on Seven Network's Better Homes and Gardens and My Kitchen Rules.
She was also recently named an Ambassador for Multiculturalism with the Victorian Multicultural Commission.
"What makes Australia so great is that we're a melting pot of cultures," Karen said.
"We should respect and love it and not turn our backs on it.
"I think we need to embrace each other, otherwise we can't move forward as strongly as we have in the past."
The title Karen has been bestowed with is befitting, as she is the embodiment of multiculturalism.
Born in the Melbourne suburb of Greensborough in 1971, to an English-Irish mother and a French-speaking Tunisian-Italian father, Karen is the product of blended blood and heritage.
"My father, Pierre Martini, migrated to Australia in the late 1950s as a child; he came out on an Italian passport from Tunisia," Karen explained.
"He came here with his family when the French lost control and everyone had to leave Tunisia."
Karen's childhood was defined by this rich family history and mosaic of cultures, though she didn't realise it at the time.
"My [paternal] grandfather's side is from Tuscany and my grandmother's side is from Sicily," Karen said.
"Whenever we visited the Martini side of the family, there was a big meal and cards and music.
"There were always snacks before the main meal ... you had to build up quite the stamina to be able to make it through!"
At home, a young Karen hung about the kitchen, stuffing peppers with spiced mince, crumbing schnitzels and licking the cake bowl.
Exotic specialties from her father's culture, such as salted mullet drying on the window sill and lamb couscous, shared the stage with her mother's Anglo eats and fresh produce from the garden.
At just 15 years old, Karen ventured beyond the family kitchen to undertake work experience in restaurants, learning the tricks of the trade from the likes of veteran French-Australian chef Jacques Reymond and the legendary Tansy Good.
In the late 1990s, she held positions at Haskin's, the Kent Hotel and the Melbourne Wine Room in St Kilda's George Hotel.
Having established herself as a prominent name in the industry, Karen opened her own artisan pizza restaurant, mr. wolf, in 2004.
In between all of this, Karen has also balanced being a mother-of-two with media commitments, charity dinners and writing projects.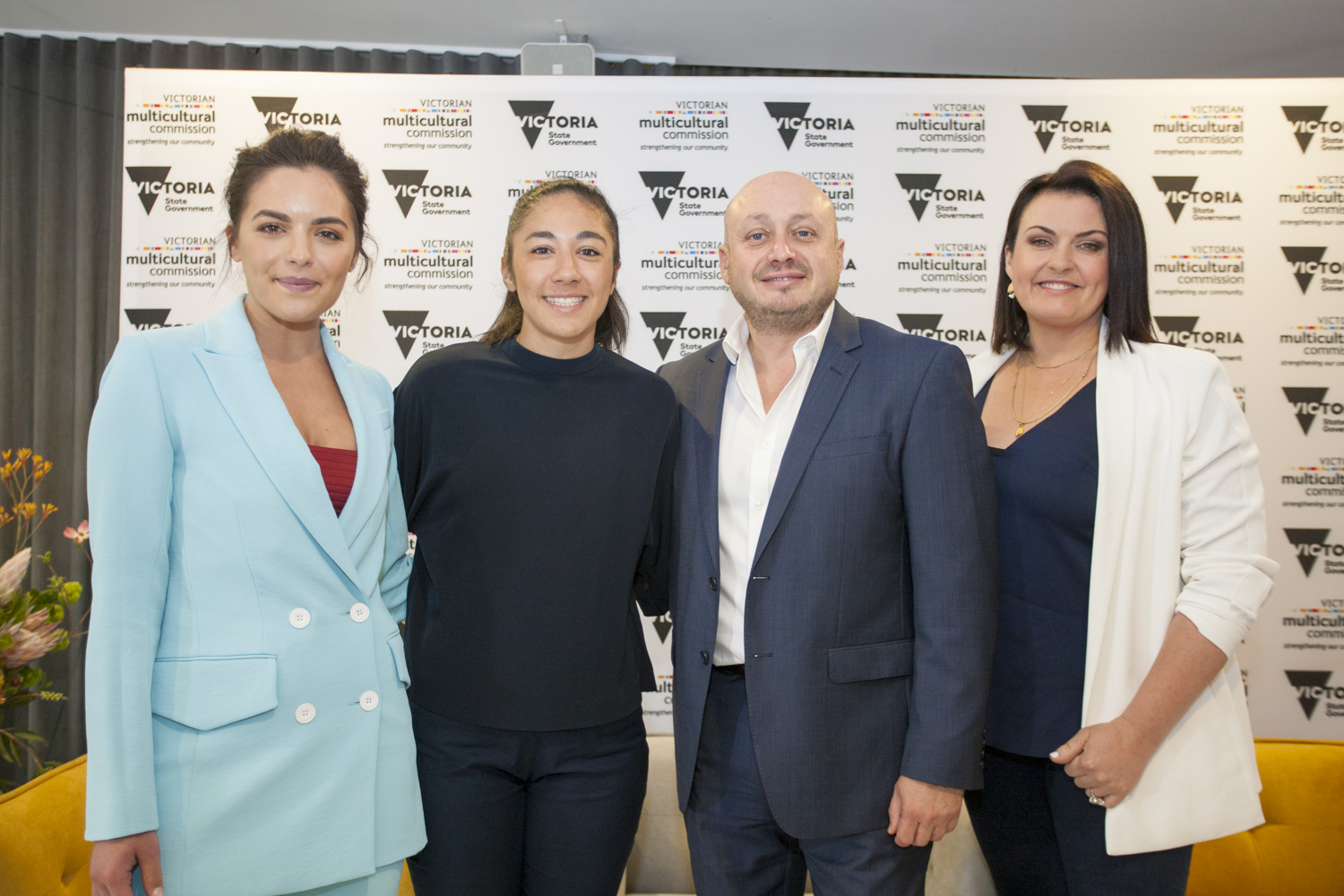 Karen Martini with fellow Ambassadors for Multiculturalism with the Victorian Multicultural Commission (L-R): Olympia Valance, Darcy Vescio and Larry Kestelman. (Photo supplied)
Throughout her successful career, Karen has stayed true to her heritage, and her Mediterranean roots have always been central to her cooking.
"There is a certain 'rusticness' at the heart of Italian cuisine and a purity to the food that people love because they can identify with it," she said.
"Traditional Italian cuisine really is such a basic way of eating because it's based on simple recipes and an eye for good produce.
"My grandmother always said that when you buy the best you don't have to do that much with it."
Karen has also spent time in Italy, both for business and pleasure, learning more about Italian cuisine the best way possible: by living and breathing it!
She has travelled all over the Belpaese, from cooking alongside Stephanie Alexander at a major Slow Food Dinner in Turin, to living like a local in the tiny village of Carpineto Romano, situated 60 kilometres southeast of Rome.
"It was a really small, tight-knit town where everyone knew everyone," Karen said of the latter experience.
"We tried every household's salami."
During her travels, Karen became acquainted with certain traditions and customs which made her fall even more in love with Italian cuisine.
"One of the first things I learnt was that everyone shops from meal to meal and while they're eating one meal, they're talking about what they're having for the next ... I was totally besotted by this," she laughed.
One Italian culinary tradition Karen is particularly fond of is the antipasto, a mouth-watering assortment of foods such as olives, anchovies, cured meat, peppers and artichoke hearts served before a meal.
"The antipasto is almost never-ending if you want it to be," Karen said.
"There's a casualness to it and people feel more relaxed, which embraces the conviviality of food.
"It sets a tone for that comfortable environment, and you can have a bit of everything... What could be better?!"
To celebrate International Antipasti Day, on July 25, Karen will be serving up her own platter of treats for friends and family to graze on in great company.
Food is so much more than a career for Karen – it's her life.
Having already published three award-winning cookbooks, she's currently working on a mammoth 900-page guide to all things food.
"There's a real passion behind it and I really want to encourage those who don't cook to have a go, and those who already cook to take it a little further," Karen said.
"It needs to be personal and informative, but not too technical so that it's still interesting."
A labour of love in every sense of the word, the book will be published sometime next year.
You only have to notice the excitement in Karen's voice when she talks about her projects to know that her passion for food is what motivates her every day, and that there will be many more to come in the future.
To end, Karen assured us: "I'm not hanging up the ladle yet!"