One night during the first week of July, the beachside town of Rimini is painted pink from dusk till dawn for La Notte Rosa, or Pink Night.
Rimini is located in the region of Emilia-Romagna, on the coast of the Adriatic Sea, just a two-hour drive from Venice and Florence and three hours from Rome.
The Riviera of Rimini is famous for its stunning sandy beaches where, each summer, millions of people flock to enjoy the warm sunshine, the sea and ... the nightlife!
Dubbed "Summer's New Year's Eve", Pink Night is an all-night party for everybody, from local families to young tourists.
All night long, there are concerts, light displays, art exhibitions, spectacular fireworks and performances.
Rimini's streets and squares are adorned with pink decorations and lights, while people dress in pink clothes and accessories, and bars and restaurants showcase pink menus to celebrate the occasion.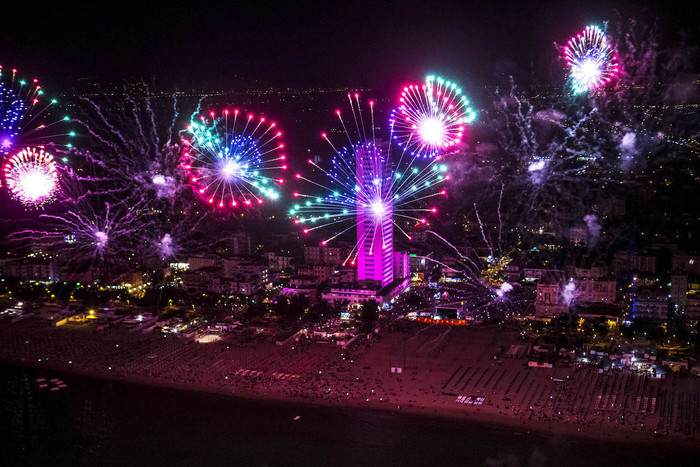 Pink is picked as a contrast to the stereotypical, wild Riviera nightlife: using the colour pink, the night aims to define itself as soft, gentle, and welcoming – perfect not just for party animals but for families too. 
Established in 2006, the annual festival also extends to towns along the Emilia-Romagna Adriatic Riviera, from Commachio through to Pesaro, while there are usually themed events in the days leading up to the big night.
This festival has become one of the biggest events in Italy with staggering numbers of up to 2 million guests at a time.
Running from Friday, July 5, this year's festival features 400 events and concerts across 100 kilometres of coastline until dawn and throughout the weekend. 
'Pink R-Evolution' is the theme chosen for this year's edition: this theme invites guests on the Riviera to rediscover relationships and the pleasure of being together, united in all our differences.
Paint yourself in pink and prepare to party!