Fast-forward a few decades and the lively Italian is one of the most sought after celebrity chefs in the UK, taking over TV screens and cooking private dinners for the likes of Pavarotti.
Having won the hearts of foodies across Europe, Gino is heading Down Under for his first ever Australian tour, bringing his charm and cooking skills to our shores in October.
Born in Torre del Greco, a seaside town not far from Mount Vesuvius, Gino was destined for culinary greatness from early on, learning the tricks of the trade from his family.
"My grandfather said that a good recipe doesn't need lots and lots of ingredients because if the ingredients are top quality and full of flavour, why would you want to cover up or change their taste?"
Keeping this philosophy in mind, Gino began cooking up his own recipe for success.
After training at the Luigi de Medici Catering College, the vibrant chef moved to London at the age of 19, where he worked at The Orchard Restaurant, in Hampstead, and then at Cambio, in Surrey. 
Gino's knowledge and skills in blending olive oils soon caught the attention of Great Food Live on UKTV Food … and a charismatic celebrity chef was born!
With a cheeky wit and exceptional talent, Gino was soon making guest appearances on Ready, Steady Cook, and starring in many more programs, including Gino vs Britain.
His mass of followers grew even more in 2009, when he won the British version of I'm A Celebrity … Get Me Out of Here! by a huge margin.
Gino has since appeared on many other programs, including five primetime series of Gino's Italian Escape.
He recently took to Australian screens with Gordon Ramsay and Fred Sirieix on the show Gordon, Gino And Fred, broadcast on Seven Network.
A dynamic personality, Gino is also the author of 15 books, all celebrating authentic Italian recipes.
Gino has opened restaurants in Manchester, Leeds, Liverpool, Harrogate and London's Camden and Euston Station, and pasta bars in three locations in Central London.
"When I built my first restaurant, one thing I was clear about with what I wanted to achieve was that a restaurant was not only about great food but it was about the Italian lifestyle," he said.
"So, it was very family orientated, the decor was using very light colours, and I included pictures of me, my family and my friends everywhere.
"It was about value for money and people coming to the restaurant and getting great food in an environment which is very friendly and quite cool."
Gino now spends half the year in the UK and the other half in Italy, where he has a house on the island of Sardinia and an office in Naples.
The passionate chef believes his intimate relationship with his homeland, even today, is what separates him from the rest.
"I live and breathe my country and I bring it back to the UK," he said.
"I'm real to the traditions that I hold close and I try very, very hard to keep these traditions alive."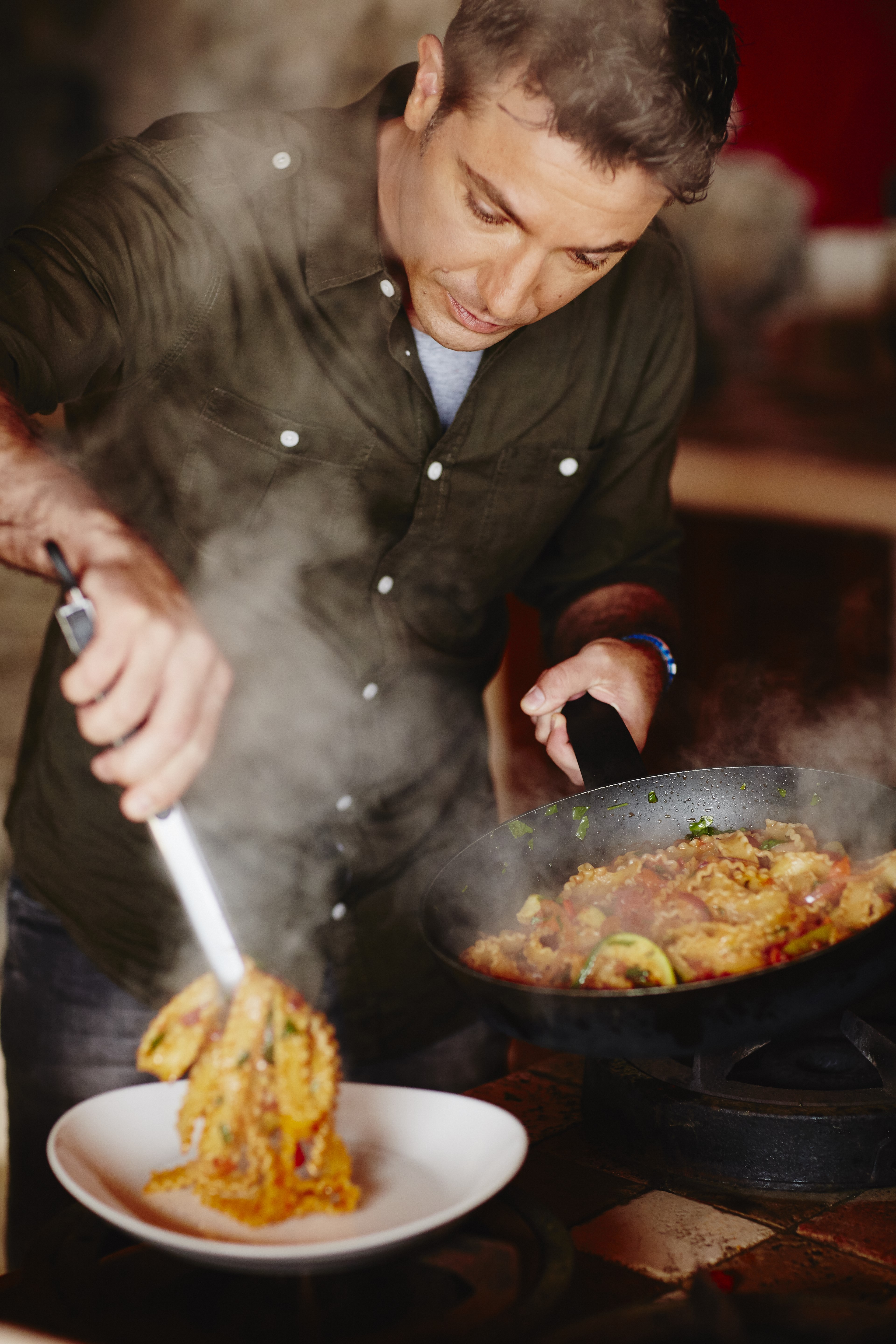 Photo: Matt Russell
And now, Australia gets a taste of Gino's talent too!
'Gino's Aussie Escape' will kick off on October 11 at Sydney's Enmore Theatre, before heading to Melbourne on October 12, followed by Adelaide and Perth, on October 17 and 19 respectively.
"Australia for me is like another world," Gino said.
"It's been on my bucket list for a long time to come, and finally I have the chance to do it ... I'm honoured that you guys have invited me to come see your beautiful country."
In his shows, Gino will combine his love of Italian food with his charming and funny nature to entertain audiences with cooking demonstrations live on stage, alongside co-host Jono Coleman.
Amid the laughter, audience members will also have the chance to taste Gino's delicious dishes and ask questions. 
Gino explained that what makes the show so exciting is the spontaneity of it all.
"I spend two hours with the audience, and I take every evening as it goes," he said.
"Nothing is prepared ... apart from the food that I'm going to make.
"The audience will be all strangers but within five minutes they all become my friends."
Gather your fellow foodies, prepare your tastebuds and we'll see you there!
Tickets for 'Gino's Aussie Escape' are now available.