This year also marks 500 years since the death of polymath, Leonardo da Vinci, the brilliant Italian artist, inventor and engineer, who showed the world what is possible when knowledge of art, science, maths, and technology is combined. 
Throughout the week, students of Italian learned about Italian and Australian history, culture and politics, and ate sensational zeppole from Pasta Deli, Glynde.
Meanwhile, lunchtime celebrations included Tombola (bingo), bracelet making, watching TV shows in Italian, Italian music and card games (Scopa and Briscola), mindfulness da Vinci colouring-in activities and a range of practical i-STEM (Italian STEM) or STEAM activities based on da Vinci's inventions.
Naturally, there was also more food: taralli, chinotto and homemade tiramisù to taste!
Coinciding with Italian Week this year was the Education Perfect SA Languages Championships 2019, a seven-day online competition open to all language students enrolled in South Australia.
The competition created quite a buzz among students, with SMC retaining its 1st place title for Italian in the state out of 34 schools, with 61,445 points, well-clear of second-placed Mitcham Girls on 12,412. SMC finished in 3rd place for Languages overall, behind St Peter's and Immanuel College respectively.
The competition was an enjoyable way to learn and revise Italian vocabulary and it was pleasing to see many students experimenting with Education Perfect to engage with other languages.
This saw SMC finish 2nd for Indonesian, 3rd for Spanish, Latin and Samoan, 5th for Arabic and in the top 10 schools for German, Maori and French!
Very special congratulations go to Grace Cavallaro, Year 9, for topping the state with an incredible 18,454 points to her name.
Joel Grygus and Joshua Morizzi are also congratulated for making the top 20 out of 3472 students in South Australia.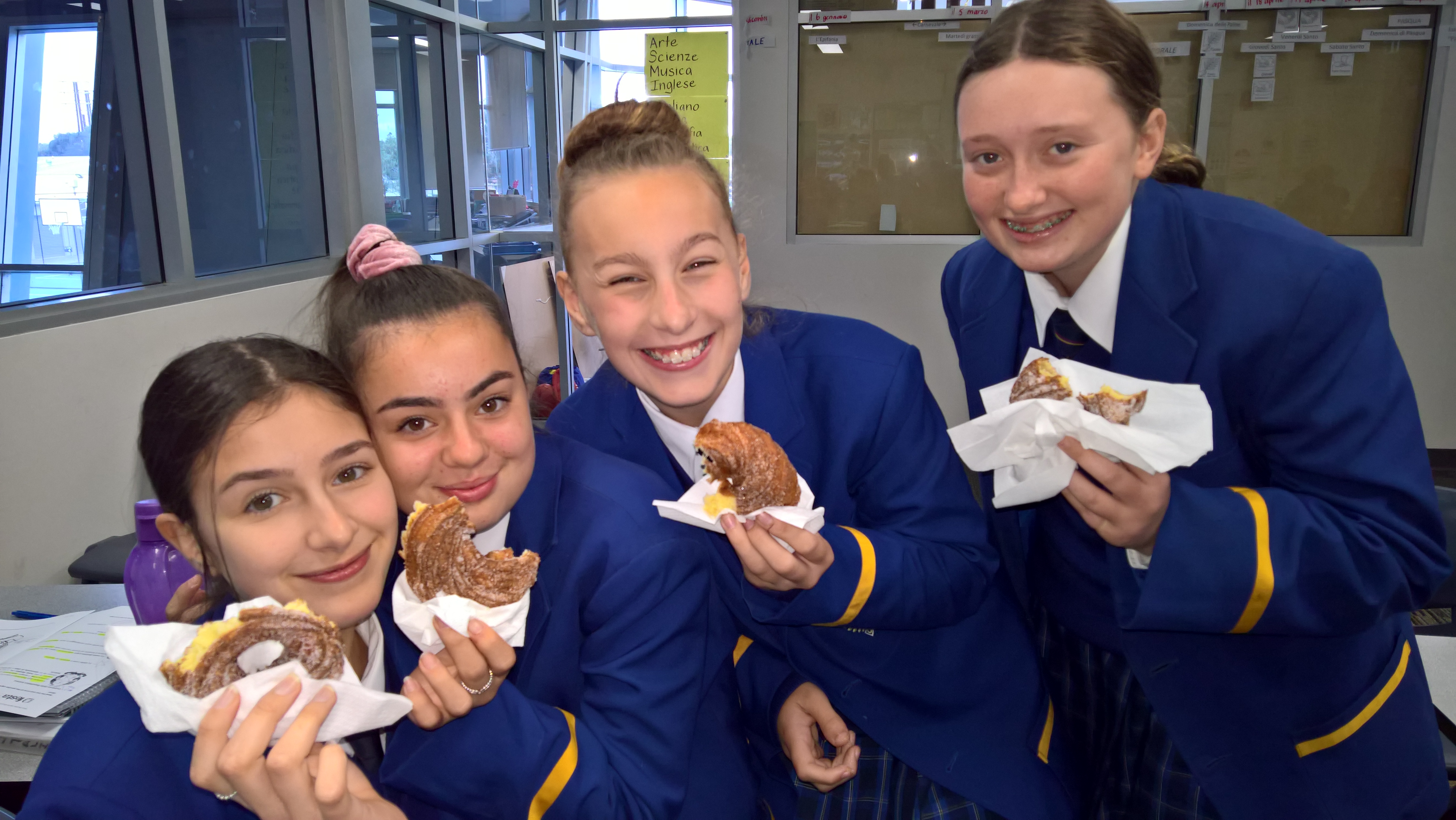 Gabrielle, Dior, Amelie and Erin enjoying zeppole, a traditional Italian sweet. (Photo supplied)
There really was something for everyone in Italian Week this year!
Well done to all those students who tried something new and to the Italian staff involved in arranging and running the additional lunchtime activities.