Red, white and green skewers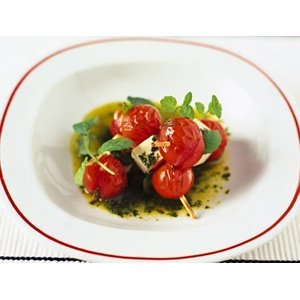 The perfect meat-free starter or side.
• 300g cherry tomatoes
• 150g ricotta salata, diced
• 20g mint
• 80 ml extra virgin olive oil
• Salt
• Pepper

1. Heat the oven grill. Line a tray with baking paper.
2. Using wooden or steel skewers, place the tomatoes and ricotta onto the skewers, alternating between the two.
3. Place the skewers on the tray and grill for 5 minutes.
4. Meanwhile, blend the mint leaves with extra virgin olive oil, a pinch of salt and a generous grind of pepper until you have a velvety cream with an intense green colour.
5. Place the skewers on a flat dish and pour the mint cream over them. Garnish with mint leaves and serve hot.